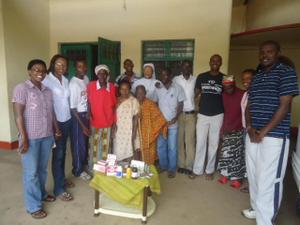 Since 2009 the Sant'Egidio Community of Bujumbura has developed a particular friendship with the sixty or so elderly patients that are cared for at the Maison Sainte-Elizabeth, the only rest home in the country. Through simple gestures such as visits, conversations, walks in the city and sharing holiday moments - for example the Christmas lunch - the elderly have found joy and hope for life.
The institute however suffers from a severe shortage in terms of health assistance and availability of medicines.
For this reason, starting from 2011, the Community made a proposal to various doctors to visit the elderly at no cost. Out of this a web of solidarity was spun that guarantees a weekly medical visit to the guests of the institute. It was then necessary to address the medicine problem. Sant'Egidio asked the town's pharmacists but also launched a targeted campaign through the social network aimed at sensitizing people. The results were very encouraging and showed that many people desired to help those less fortunate than them: the medicines that were collected this way allowed the opening of a small pharmacy within the institute.
The elderly welcomed with joy these caring gestures by their younger friends. One of them, Bernard, thanked them, saying: "Before you were doctors of the heart, now you are also doctors of the body".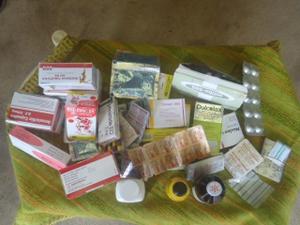 But the Community entertains bigger dreams. All of the services provided by Sant'Egidio are characterized by a tension that is both utopian and pragmatic. It is pragmatic because the different initiatives confront the immediate necessities of the poor and try to find small-scale and concrete solutions. But it is utopian as well, because every accomplishment feeds the ambition to contribute to unleashing greater energies aimed at doing good.
There are many other elderly waiting to be treated. In Burundi, basic medical treatment is only guaranteed to children younger than five or pregnant women but not to senior citizens. Since the majority of the elderly lives in conditions of extreme poverty, frequently someone who cannot rely on the help of a son is forced to forego a medical visit or a medicine. In addition, there is a severe problem with hygiene. Most Burundian homes lack running water and when you are unable to access water on your own and do not have someone who can do it for you, you need to save every last drop of water. This impairs hygienic conditions: the elderly are often affected by parasitic diseases and skin ailments.
This is why the Community wants to carry out an educational effort within civil society of which the collection of medicines is only a first step. The goal is to suggest and promote, together with other associations, law proposals specifically aimed at benefiting the elderly, so as to not exclude or penalize an age group that will continue to grow even in Africa.