The African communities of Sant'Egidio, especially those in West Africa, intensify their efforts to defend children's rights, to promote a culture that respects the life of the youngest members of society.
In too many sub-Saharan contexts there is an extensive misunderstanding of the rights of minors, there is a vast underestimation of the dignity and value of their lives. In this perspective, besides the great effort put forth by Sant'Egidio to guarantee the birth registration of the greatest possible number of minors in Burkina Faso, noticeable are the efforts of the communities of the Ivory Coast and the Republic of Guinea.
In the Ivory Coast - in the context of a situation that is pacified following the recent civil war, but is nonetheless still difficult due to price increases and the growing gap between rich and poor -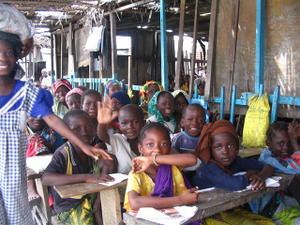 Sant'Egidio manages almost 40 Schools of Peace, involving 3300 minors including children, adolescents and street kids. This is a very important effort at educating for peace and human promotion in a country which, sadly, has recently witnessed ritual murders of children. Last February one such murder case regarded a girl who was involved with our activities. What is needed is to provide hope, to build a new culture starting from younger people, involving as many as possible in a movement that aims at finding salvation together from the crisis, in solidarity and humanity, a movement that helps to resist to the temptation to seek refuge in the lure of irrationality and violence. The movement of the Young People for Peace grows in the Ivory Coast and aspires to become a barrier to inhumanity and indifference.
The work the Community is carrying out in the Schools of Peace of Guinea is also important. Here too, unfortunately, we see an increase in violence against minors. Sant'Egidio reacted with force when one of the children of the Yimbaya center was beaten to death by his teacher because he did not have the money he was supposed to give her. This is, sadly, a common practice in Guinea: several teachers pad their salaries by demanding payment from their own students. The prayer organized by Sant'Egidio to raise its voice against this tragedy was broadcast nationally on the radio. Our closeness to the poor and in particular to the most vulnerable children must turn into information and sensitivity.